Shannon Plaza Apartments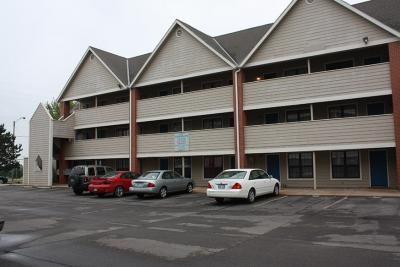 1 bedroom private individual apartments
Rent - $450 per month (1 person)
Rent - $500 per month (2 people)
Deposit - $450 (1) / $500 (2)
Terms – Year Lease
Application Fee - $40 per applicant
Bulk cable account - What does this mean for our tenants? Huge savings! Free expanded basic cable (60+ channels), huge specials on internet, DVR rentals are cheaper, no fees for self activation, 2 digital boxes are free with bulk account (contact local office only for best offers). You can add premium channels and only pay for them.
Location – 415/425 S. Haverhill, El Dorado. The apartments are conveniently located on the South El Dorado truck route within walking distance to Butler Community College. The apartments are located directly across the street from the new BG Products Veterans Sports Complex. It is within close proximity to many restaurants, fast food, Wal-Mart, financial institutions, and a variety of other stores.
Management and Staff – There is no better facilitated property than one that is operated by the owners. The staff is well educated and trained to take care of all tenant needs. Immediate priority assistance is given on maintenance issues. No waiting 24 hours for the maintenance request to be addressed.
Privacy - Unlike some apartments, you have your privacy and the ability to pick your own roommate(s). No roommate matching here.
Student Housing-Our student housing is for the serious student looking to better themselves by attending the best community college in the state, Butler Community College. We provide housing that encourages "personal growth" and is beneficial to learning. Our apartment atmosphere gives your student the extra edge needed to gain superiority in their lives.
Non-student residents - are offered a great quality of living at an affordable price. Carefree apartment living that you'll call home.
Amenities - 60+ channels of Cable, water, trash and sewer fees are included in yearly lease rent. Tenant is responsible for gas, electric, and upgrades on the cable, i.e.: HD service. High speed internet is available. Each apartment is individually heated and cooled by central heat and air and controlled by the tenant. There is a 24 hour Laundry facility.
Apartment Layout - 525 Sq ft. When you enter the front door, you will step into a spacious living room (coat closet is conveniently located inside the front door). There is a dining area beside the kitchen. The fully equipped kitchen is furnished with a dish washer, microwave, stove, refrigerator, a food disposal, and a breakfast bar. The bedroom is spacious and has a large closet. There are window coverings on all the windows throughout the apartment.
A great value and energy efficient - The apartments are energy efficient and are a tremendous value.
Click here
to Download a Rental Application. ($40 application fee per applicant required)